CNN recently published a notice referring to "The Day The Music Died" In Nashville Tennessee,
I must disagree.  
The music is not dead, nor is it dying.  The music is alive and well.  
Musicians - whether or not they play downtown on Broadway or sitting for sessions, or sitting down in writing rooms- are still playing. 
The allure of Music City has been a siren calling out to people all over the world who want to pursue a dream of music, drawing them in one by one.  Each person who came to Nashville with that dream or calling in mind carries music with them differently than your average Joe.  We aren't talking about hobbyists who pick here and there, hum a tune or sing karaoke for fun.  We are talking about the guy who came to Tennessee with a guitar in one hand, backpack in the other, took a greyhound thousands of miles away from home to take a chance in a town where the competition is high and you don't know anyone or where anything is.
Music City has a pulse all its own, the heart beat is in the air, you can feel the kick drum in your bones when you walk downtown.
The lower Broadway strip is a spooky place at this very moment.  Sidewalks are empty, honky tonks are closed, traffic is mild, and I haven't seen a pedal tavern or bachelorette party in weeks!
Lets go to Music Row for just a moment...Nashville Songwriters Association International, a home to songwriters, place of learning and networking, full of passion and big comfy couches - sits empty.  Sound Stage Studios, BMI, ASCAP,  Studio B, places like these are barely open, places where the music is literally manufactured to be shared, are aching for the sound waves to be bouncing off the walls.  
Nashville isn't only honky tonks, beer drinking, partying and playing music.  Nashville is MUSIC CITY.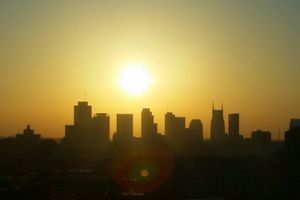 Music City lives by every musician, sitting in their house, on a porch, in their home studio, playing with every ounce of passion in their body.  While feeling the frustration of not being able to perform in front of a crowd, these musicians are still playing.    They are playing new songs, writing new songs, recording things in their own studios.  Live streams from the couch are becoming mainstream.  With guitars in hand or pen to paper, artist and songwriters are creating music right this moment.  Artists are being challenged with a new medium to be heard. 
Guess what, the challenge has been accepted by the majority.  Don't believe me?  Go on Facebook or instagram- tell me how many people you see playing shows or your favorite artists playing free "concerts" from their home to share with you.  
Music is a passion. Musicians aren't regular joes.  Musicians have big hearts that bleed in keys, they beat in time like a metronome.  Musicians listen differently, they hear with their hearts, absorbing lyrics and notes as if it were water. 
Speaking for myself, music is air.  If I need to breathe, it is as easy as turning on the radio or picking up my guitar.  I can't imagine a world where music is so called "dead".
I came to Nashville to eat, drink, sleep, breathe music.  I decided to move to Music City because of that golden road that is glittered with opportunities. I believe it is people like me with this common thread, that will keep Music City alive and well.  Virus or no virus, the show will go on.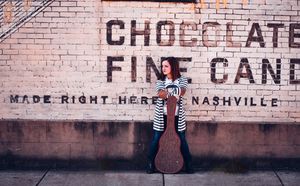 - Emily Frances
MidWest Coast
www.midwestcoastband.com 
instagram @emilyfrancessss
- the views in this blog are strictly a reflection of emily frances singer songwriter of nashville tn member of midwest coast band -
- photo credits to emily unger and casie habelter