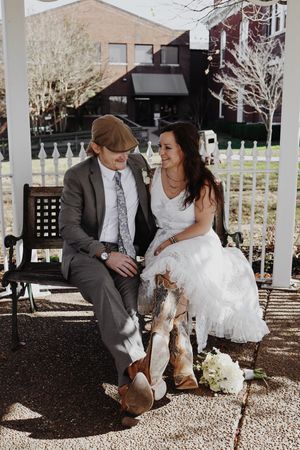 Once upon a time, one young man from the West Coast and a young lady from the midwest, found each other at a songwriters showcase one July night.  He was on stage, she was in the crowd.  They locked eyes, later that night they met and sparks began to fly!  The two kept running into each other, eventually started to write songs together, two years later Dan asked Emily on a date, truly how MidWest Coast was formed!
yup a few love songs are hanging out there....you'll hear them soon.
Far from a Shotgun Wedding, but an Elopement 
A simple country wedding was just right for the pair.  The courthouse in Chetham county would be the place to do the deed before the honky tonk honeymoon.  
It's hard enough to try to book a show to play live music in the midst of a pandemic, let alone a wedding, but this one was simple and beautiful.
Out in the county, there is one judge who performs ceremonies, with that in mind, wedding ceremonies are only performed on Monday mornings.  Monday, November 16, 2020 was the date!  Without much time off of work and less than 10 days from the date the date was set- they knew they could run off to the cabin in North Carolina any time.  It only seemed fitting to go dancing in our boots right where we first met and our story started.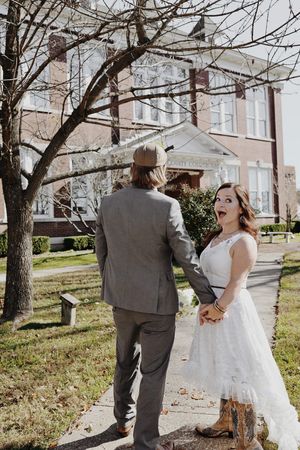 Emily made a dress, gathering scraps of material from her closet, picking through old clothes.  A trip to Hobby Lobby would be necessary to obtain the desired ruffles.  I'm still a princess even if I wanted to wear cowboy boots.  
Dan wore a simple gray suit, but his dad's cowboy boots.  So many little sentimental touches- Dan proposed with Emily's grandma's ring.  Emily's dress made from old scraps and new pieces.  Lots of love, no frills ( except for the dress).
And since she was wearing white, Emily HAD to have Edleys BBQ on her wedding day.  No BBQ stains for this girl!
The FRILLS came at The Graduate Hotel and White Limozeen where the couple celebrated their honky tonk honey moon.  Pink lace , sparkling champagne, 60 degrees and sunshine in the middle of November.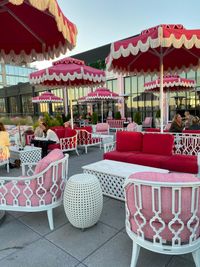 The next morning the couple enjoyed chocolate cake and coffee in bed.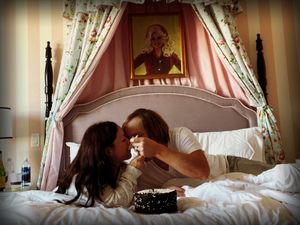 Now they are living happily ever after in their new home in Ashland City Tennesee, they have 17 guitars, 1 uke and many plants.   Today they are busy making more songs!  
This is a Nashville Romance... stay tuned for the soundtrack.
#midwestcoast
#nashville
#diywedding